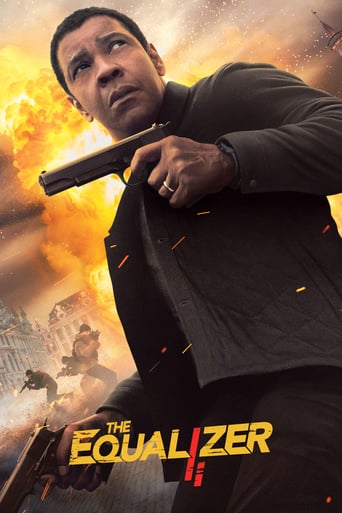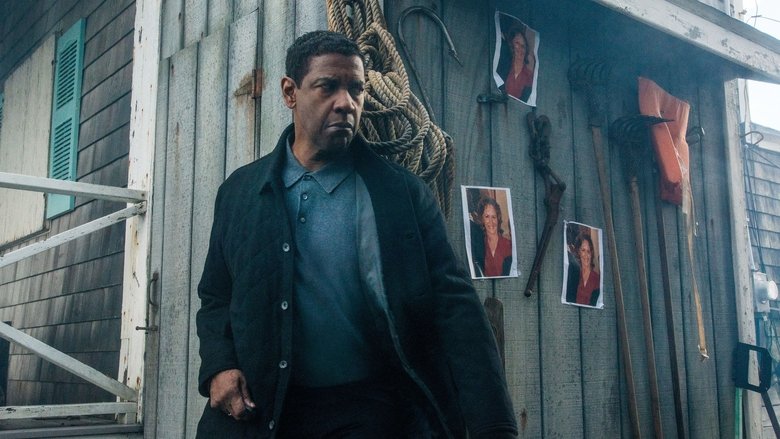 The Equalizer 2 (2018)
Robert McCall, who serves an unflinching justice for the exploited and oppressed, embarks on a relentless, globe-trotting quest for vengeance when a long-time girl friend is murdered.
...
Cast
Similar titles
Murder Movies
Revenge Movies
Reviews
Such a frustrating disappointment
More
There are moments in this movie where the great movie it could've been peek out... They're fleeting, here, but they're worth savoring, and they happen often enough to make it worth your while.
More
The movie's not perfect, but it sticks the landing of its message. It was engaging - thrilling at times - and I personally thought it was a great time.
More
Love the action. Denzel is one of the best actors in today's cast of actors. The pace was good. I like the way it began. They stayed true to the original.
More
Total crap no way is it better then the first. The first one had a plot and action this had nothing at all
More
I really enjoyed this sequel and I thought the fight scenes were really well done. Great actors too which made the film even better. Although I didn't think it was better than the first film, I think it did work and was a good solid action film.
More
'The Equalizer 2 (2018)' feels very long and unfocused. As counter-intuitive as it may seem, though, that lack of focus essentially forces it into featuring much more of the stuff that's less narratively-important but is actually more enjoyable and 'rewarding' from a character point of view, the stuff that doesn't directly involve killing folk or otherwise maiming them in any way (though this seeps into every story-strand at some point or another). Still, our 'hero' is as cold-blooded as ever and he always seems to escalate every situation into a life-or-death one no matter its initial severity. This time, however, the film does manage to move its emphasis somewhat away from apparent endorsement - or having the violence appear to be the 'solution' to every problem and pushing this on the audience, like in the first flick - and more towards the protagonist's near compulsive need to crack skulls at the first sign of trouble, though it still doesn't explore or even comment on this penchant for chaos in any meaningful way. Because of this, there seems to be a clear, if not quite clarified, distinction between his actions and those 'recommended' by the filmmakers themselves, be it more directly or - as is usually the case and was for this movie's predecessor - through what is shown to be 'cool'. A small attempt to introduce some morals, a counter-point to our 'hero' in the form of himself, only really incurs a sense of the hypocritical, as the lead denounces violence to a supporting character while constantly practising it in essentially every major scene (in most of which he isn't even on the defensive side of things). It's nice that they're trying to go deeper into the character, who's already lost - to an extent - much of what made him distinct in the first flick, and vigilantism should be explored when its depiction borderlines on glamorisation, but the work done isn't deep enough to feel as though its inclusion was even worthwhile and, honestly, it almost feels like a patch-job attempt to fix an issue that goes much deeper, one that still persists despite some decent work done in other areas of the screenplay that do begin to mitigate it. For example, there are some interesting things done with perspective in the finale, allowing the 'hero' to be framed more as a slasher movie's 'villain'. This enhances the effect of a fairly compelling and unconventional final sequence that feeds from some interesting, due to how they relate to the protagonist and the way they're presented, if predicable villains who unfortunately enter the plot too late in the day to have any real impact. The slasher villain framing honestly suits the protagonist's slightly sadistic actions rather well. He's basically Michael Myers except he chooses his victims based on a loose moralisation system of his own design, one that allows him keep killing and claim - perhaps even to himself - he's doing it for the right reasons. Of course, this reading is, at the very least, exaggerated. The character is supposed to be a vigilante who believes in his moral code, through and through. I feel he should be presented more as an anti-hero, however. This would allow for his methods to be seen as truly grisly to the viewer and open a genuine debate as to whether they're a necessary evil. As is, the killing is just a power-fantasy presented in as slick and pleasing a way as possible, which would be fine if it weren't tinted with sadism and a story that aims to focus on and totally justify it. Granted, the sadism is toned down significantly from the first, but the theme of personal punishment still runs thick. The issues with the violence were no where near as prevelant as in its predecessor, but they did dampen my enjoyment and they do give me pause upon retrospect. Again, the stuff that works the best is the stuff in which our lead isn't kicking anybody's head in. When he helps people by being there for them and doing what he can, that's when I find the film to be its most compelling. The character's relationships and the way they evolve are actually rather interesting and quite well rounded, making for some enjoyable sequences that do pay off in the end. I know it's strange that the low-key, meandering drama aspects are the best bits of a big-budget action-flick but, here we are. 6/10
More