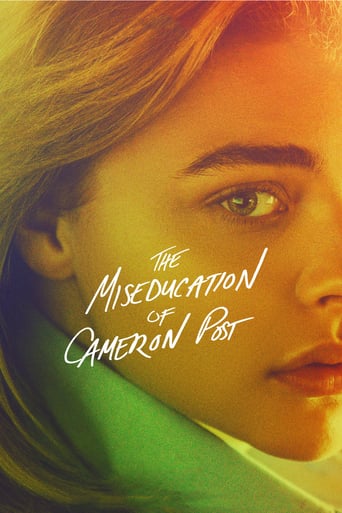 The Miseducation of Cameron Post (2018)
In 1993, after being caught in the backseat of a car with the prom queen, teenage Cameron is sent away to a treatment center in a remote area called God's Promise. While she is being subjected to questionable gay conversion therapies, she bonds with some fellow residents as they pretend to go along with the process while waiting to be released.
...
Cast
Similar titles
Lgbt Movies
Coming Of Age Movies
Reviews
n my opinion it was a great movie with some interesting elements, even though having some plot holes and the ending probably was just too messy and crammed together, but still fun to watch and not your casual movie that is similar to all other ones.
More
Clever and entertaining enough to recommend even to members of the 1%
More
Exactly the movie you think it is, but not the movie you want it to be.
More
Mostly, the movie is committed to the value of a good time.
More
Chloë Grace Moretz has been squarely on our radar since 2011's phenomenal 'Hugo.' In 'The Miseducation of Cameron Post,' she plays a high school junior who gets caught in the back seat of a car with another girl during prom and is subsequently sent to a religious gay conversion facility.Playing a gay character is a rite of passage for many young actors and actresses. At its most poignant, such a performance brings the potential for an Academy Award into the realm of possibility (Tom Hanks in Philadelphia is one such example). In 'Miseducation,' Moretz puts her acting chops on full display and we couldn't be happier to see her continuing to push the boundaries of her talent. While the film itself is superb, it's also likely to fly too far under the radar to land Moretz any awards. However, the expectations for her to someday have enough hardware to fill up her mantle have never been higher.
More
Summary in BriefThe Good, The Bad, and The Ugly of The Miseducation of Cameron PostThe Good: All the acting is pretty much "on fleek". The characters are charming giving us this ex-gay Breakfast Club feel. While Dr. Marsh is our Diablo, Rev. Rick is our Igore who really fueled the fire behind this exgay, psychological nightmare camp. We first encounter Rev. Rick playing worship music to the young "Disciples" at the lodge which is fitting. He is a pied piper of sorts singing the praises of a God he feels rescued him from a gay hell and hoping to lure these kids in with his heartfelt delusion. He's a great singer, guitar player and passionate. This is an element that can and did hook me into exgay ministry and religious fundamentalism as well--heart stirring music that rose my consciousness to heavenly places. I know because I've been deep in it. Nothing wrong on the surface until those that usher and play these pipes start coloring in a God who can't tolerate a part of who you are and all you have known since early childhood. For a work of fiction, this movie is pretty spot on right down to the Iceburg theory that the kids are forced to participate in, which is prevalent in ex-gay circles and my own first exposure to it. Though it does nothing for Cameron, there are more tools in the toolbox waiting for her. The owner of that toolbox is the relentless ice queen, Dr. Lydia Marsh and her strange co-hort Rev Rick (who have an unusual vested interest in each others success we find out about later). These two play our two antagonists very well with one carrying a certain innocently dangerous charm (Rev Rick) and the other a pscyhologically abusive power (Dr. Marsh). The story does a great job keeping us connected to Cameron's love interest in Coley played by Quinn Shephard. If you are lesbian, you will enjoy their connection and the many sex scenes early on and through flashbacks. Cameron's long distance love affair with Coley reminded me a little of The Color Purple right down to Cameron finding out Coley's letters had been kept from her. It is clear why Cameron struggles with her affair with Coley because Quinn does a great job as a sexual powerhouse. Coley is an identity whirlwind that Cameron can't control. When the affair is exposed, it all get's out of hand for her Jesus loving family and Cameron is sent to exgay camp. The longing, guilt and confusion that play a ripple effect through Cameron are felt in the movie from beginning to end, and it is played authentically. The film does a descent job too of balancing out humor and using Cameron's defiance to keep us from being sucked into a void of despair. The characters surrounding her are also a help--they are entertaining and emotionally appealing. You want more, not less. The story is set in 1993 and I felt they did a good job of making this feel old school with the lighting, the hues, and simple things like the VHS recording of "Bless-ercise "and old school Vanity mirrors. There are believable characters here you will want to invest in and you will but the question is does the film leave you short on your investment? No and Yes. Read on....The Bad: While we are teased with characters who are overtly in denial, others ready to explode, and still others deeply faithful and often very funny, the film focuses more on how the characters live mundane, abusive lives. Some of it covers their modes of resisting but leaves a sad lacking element of teasing but not delivering to us a more in-depth exposure to these characters. This plays out in snippets of group sessions with characters we later don't see much of or get to know. Some of the tragic highlights happen to characters I ended up wanting to know more about than Cameron herself at points because of their emotional turmoil. This is chiefly because Cameron comes in resisting but many others are not as strong willed. Eventually, even Cameron begins to doubt herself but not for long like the others have. This is just nit picking some because her story is still appealing too, but I wanted more. Also, there is a lack of any kind of awareness around Cameron's now-family except that they are Jesus loving and threw her into this camp which is another missed connection. The framing of the movie throws us right into camp early and ends pretty much the moment she escapes so that there is no real solid sense of Cameron's beginning or her end. It is just hinted at as are most things in this film. Jennifer Ehle's portrayal of Dr. Marsh is disturbing. You dislike her easily, but at times she is played too robotic and a bit less believable.., but in another way that too is on point. Having experienced many a leader in these ministries they are so cut off from themselves and compassion. They do indeed come off robotic and fake. Still at times, even her fake didn't land. The Ugly: Just a personal preference, but I found the ending strange. Like taking 10 minutes to eat one Cheetoh. It was a weightless, meaningless ending that should have been powerful since it is the start of what we hope for some of the characters in the film who have some sense about them. Yet, it comes off a bit unfinished, almost like the writer didn't know what to do next.
More
Actress, Writer, Director Desiree Akhavan ("Appropriate Behavior" 2014) is back in the seat again, this time adding Executive Producer to her list of accomplishments. Presenting a solid summer youth angst film about the 1990's "gay conversion therapy" phase, we are introduced to Cameron (Chloe Grace Moritz "Carrie" 2013) who is caught having relations with her BFF Coley (Quinn Shephard ""Blame" 2017), and sent to camp "Gods Promise" to change her lifestyle. Heading the "conversion therapy" is conflicted leader Reverend Rick (the terrific John Gallagher Jr. "The Newsroom" 2012) and the tightly wound Dr. Lydia Marsh (the amazing Jennifer Ehle ""Little Men" 2016). If these two robots aren't enough to scare you straight, nothing is. However, when you place a bunch of independent blooming young minded kids (Sasha Lane "American Honey" 2016, Emily Skeggs "When We Rise" TV, Forrest Goodluck "The Revenant" 2015, to name but a few of the terrific camp captives) in a place that's all about "don't do this, and don't do that", things don't always go as planned. Akhavan is terrific at slowing reveling each young adults fears and frustrations, while quietly enabling them to work through their issues privately and in bursts of revelation. Gallagher Jr. and Ehle are superb in their self-centered and standoffish roles as leaders. There's something erie behind their facades that keeps the audience wondering if and when their personal dam will burst. Fellow camp captive Mark (Owen Campbell "The Americans" TV) gets on opportunity to stretch his acting chops in a break out scene that is one of the films most powerful displays of personal growth forcibly held back by those charged with helping the young. I haven't really had Chloe Grace Moritz on my radar, but with her strong and appealing performance here, she is someone to watch. In fact, all the youth in this film are sure to see an up tick in their acting careers due to thier honest and heart-filled roles here. I just wish the film had a more resolute ending.
More
But your preaching to the choir.Cameron Post is a young woman discovering her sexuality when she is caught doing things unchristian like, so her family takes her to a camp that's met brainwash you into believing your something that your not. What's really messed up is at that young age she does not even know who she is and they are try to destroy it before she does. It is a movie that gets me asking a lot of questions that I already know the answers to, but it's questions that always should be ask cause I feel that it does help with the process of tolerance in the world.In the The Miseducation of Cameron Post we become educated, in a movie that does it in a fun and enjoyable matter, but I'm a bit biased cause I'm a huge fan of Chloë Grace Moretz, who I thought was so fantastic as Cameron Post.
More