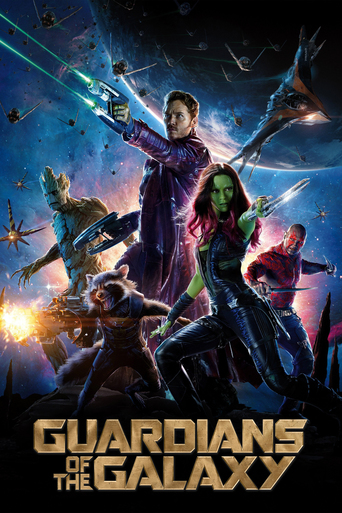 Guardians of the Galaxy (2014)
Light years from Earth, 26 years after being abducted, Peter Quill finds himself the prime target of a manhunt after discovering an orb wanted by Ronan the Accuser.
...
Cast
Similar titles
Adventurer Movies
Aftercreditsstinger Movies
Reviews
The cheeky comic tone keeps things buoyant - as does Chris Pratt s winning performance as the most blissfully spaced-out space crusader this side of Buckaroo Banzai.
...
Part George Lucas and part Chuck Jones, Guardians of the Galaxy has enough scrappy heart and smart humor to make it seem like the best possible kind of product, one where the talent of all involved makes it easy to enjoy their hustle.
...
"Guardians of the Galaxy" is a smart, funny movie at war with dumb explosions and other special effects. It also celebrates them.
...
Despite occasional disregard for the laws of physics, much of the imagery displayed onscreen is so realistic and thrill-inducing that sometimes even the plot becomes almost secondary during the more intensely visual sequences.
...
To misquote Forrest Gump s mother, Guardians of the Galaxy is like a box of chocolates. Or rather, it s like a vast, family-sized festive crate of chocolates, all wrapped in the shiniest packaging, all exploding with sweetness and surprises.
...