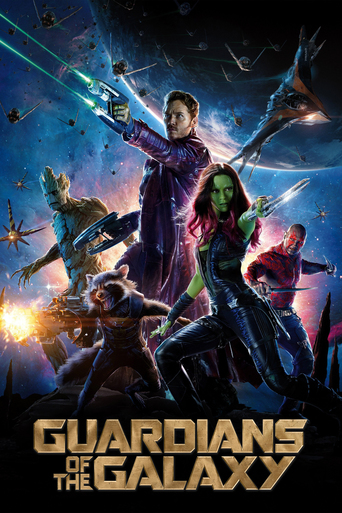 Guardians of the Galaxy (2014)
Light years from Earth, 26 years after being abducted, Peter Quill finds himself the prime target of a manhunt after discovering an orb wanted by Ronan the Accuser.
...
Cast
Similar titles
Duringcreditsstinger Movies
Based On Comic Movies
Reviews
Simple and well acted, it has tension enough to knot the stomach.
More
This is one of the few movies I've ever seen where the whole audience broke into spontaneous, loud applause a third of the way in.
More
A movie that not only functions as a solid scarefest but a razor-sharp satire.
More
The movie's not perfect, but it sticks the landing of its message. It was engaging - thrilling at times - and I personally thought it was a great time.
More
Tone, Script & Story: Our star lord has acquired an orb. Now villain Ronan will hunt him down for that orb with the help of which he can cause destruction in universe. Will Star Lord's 'Guardians of the galaxy' be able to stop Ronan. Things I liked: I liked Yondu with his weapon. I further liked the scene that contains Yondu and orb before approaching end. At last I also liked how Guardians of galaxy restore power of orb and the reason why they are successful.Direction, Screenplay, Cinematography: To be really frank movies that are a result of adoption to comic book has its own advantages and disadvantages. For me the disadvantage is the action that causes destruction in the movie. Despite that this movie excels in cinematography. It is visually stunning with all its elements. The visual treat is on par with movies like Avatar. The makeover of characters (like groot, gamora, drax, yondu, rocket), the places like nova corp, with all of its components are simply magnificent.Music: There is music which is played by star lord. It was given to him by his mother. It was good, although it dint attract me much. Acting: Everybody associated has acted really well.Final Verdict: If you have not read comic's, the movie brings a lot of freshness with it. This visually stunning roller coaster ride is worth watching.
More
I really could care less about Marvel universe whatever, this is just a really creative and funny movie. Clearly, with a big budget and creative team, you can do just about anything visually, but this goes well beyond that to deliver outstanding comedic acting with great writing behind it. Well done!
More
This sci-fi masquerading as a superhero flick is the best film to come out of the MCU. It's laugh-out-loud funny on multiple occasions, it has a great cast of unique characters that are all played fantastically by the actors, and the story has a beating heart at its core. The film works so successfully because of the way in which alien characters (including a hybrid raccoon and a talking tree) are realistically portrayed and developed. Somehow the film manages to always feel human and something that we can relate to. On top of this, the action sequences are spectacular and, since we truly care about all of the key players, there isn't a disconnect between the audience and the CGI on display. Also, who could forget the film's fantastic 80s fuelled soundtrack that plays a large part in the story and the character development. The best thing about the film, however, is that it's an utter blast from start to finish, no matter how many times you have seen it. It's blockbuster filmmaking at its best. 9/10
More
This movie brings a new universe to Marvel. Far from the land, there is a movie in space, close to Space Opera. The quality of the choice of the actors and the realization make of this movie, a future cult movie! A movie full of humor, adventure, where the wicked-kind universe is not so decided. It's a movie that you can really see with your family. It's beautiful, colorful, with special effects well used, we hate to see another opus of these heroes. And we even wonder how the meeting with other heroes marvel will be done, so we are not in the same universe.
More