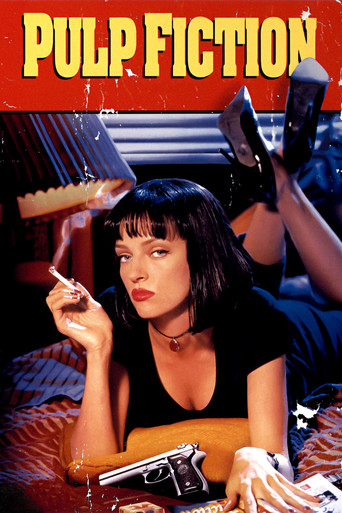 Pulp Fiction (1994)
A burger-loving hit man, his philosophical partner, a drug-addled gangster's moll and a washed-up boxer converge in this sprawling, comedic crime caper. Their adventures unfurl in three stories that ingeniously trip back and forth in time.
...
Cast
Similar titles
Ambiguous Ending Movies
Boxer Movies
Reviews
Brilliant and brutal, funny and exhilarating, jaw-droppingly cruel and disarmingly sweet.
...
It s the movie equivalent of that rare sort of novel where you find yourself checking to see how many pages are left and hoping there are more, not fewer.
...
All the details are executed to perfection. Ironies abound in the smallest situations.
...
Writer/director Quentin Tarantino demonstrates his encyclopedic grasp of filmmaking by bending, chopping and deconstructing narrative while keeping a groovy beat.
...
The movie resurrects not only an aging genre but also a few careers.
...