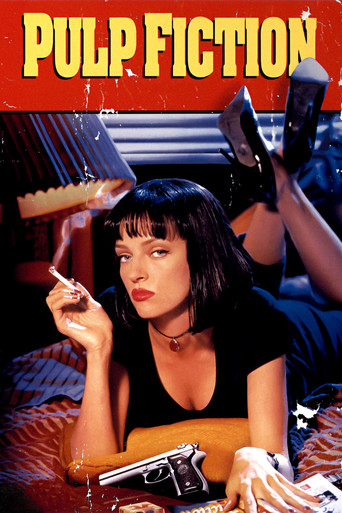 Pulp Fiction (1994)
A burger-loving hit man, his philosophical partner, a drug-addled gangster's moll and a washed-up boxer converge in this sprawling, comedic crime caper. Their adventures unfurl in three stories that ingeniously trip back and forth in time.
...
Cast
Similar titles
Drug Dealer Movies
Boxer Movies
Reviews
Surprisingly incoherent and boring
More
Simply A Masterpiece
More
One of the film's great tricks is that, for a time, you think it will go down a rabbit hole of unrealistic glorification.
More
"English, motherf**ker, do you speak it?" "Bring out the gimp." "Get my wallet...it's the one that says Bad Motherf**ker." "Royale with cheese." The Ezekiel 25:17 speech.These 5 lines and many more famous scenes come to mind when people hear "Pulp Fiction." I think I would be correct in saying that it is the most quotable movie ever made. That is not the only thing that makes this movie special. The dialogue as a whole is so well written. In his 2001 "Great Movie" review, Roger Ebert said it could work as an audio book. I would like to buy a Pulp Fiction audio book-that would rock!Another iconic part is that it has 3 separate stories that tell one story when told in order. However, the movie switches them so you have to figure out the order itself. I read somewhere that in order, the last line would be Bruce Willis saying: "Zed's baby. Zed's dead." In the movie, there is a little over a half hour left when the line is said. I could continue on-but this will suffice.Pulp Fiction is a movie that movie fans really should see.Note: There is a lot of language as colorful as the dialogue itself.
More
I never liked this film. Horribly overrated.see the review by adam G for a better worded and longer winded explanation of my feelings on this movie.
More
This is a very good film. Good combination of actors and music.
More
Say What Again I Dare You! (c) Samuel L Jackson with hair what else is needed? 10/10
More