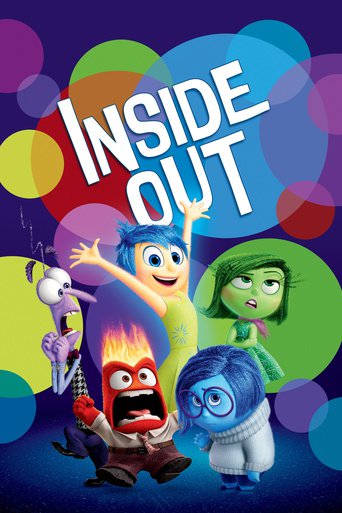 Inside Out (2015)
Growing up can be a bumpy road, and it's no exception for Riley, who is uprooted from her Midwest life when her father starts a new job in San Francisco. Like all of us, Riley is guided by her emotions - Joy, Fear, Anger, Disgust and Sadness. The emotions live in Headquarters, the control center inside Riley's mind, where they help advise her through everyday life. As Riley and her emotions struggle to adjust to a new life in San Francisco, turmoil ensues in Headquarters. Although Joy, Riley's main and most important emotion, tries to keep things positive, the emotions conflict on how best to navigate a new city, house and school.
...
Cast
Similar titles
3d Movies
Animation Movies
Reviews
Like computer effects of Pixar animation script but the film involving the brain nerve system and psychology knowledge don't know whether the children are read Joy through untold hardships even Bing - bong all abandon themselves dragged Sadness in long - term to find my way back to my headquarters to see the film in the memories can't help that.
...
Transfer stories abound. In essence, it is the same story with toy story 3 about growth and loss. Different toys become memory balls of different colors and nature of Home Video. Life is certainly not a simple Joy Story. Mixing balls is a sign of growth. The thing to say is actually trivial, just like a tear you can also regard as insignificant. But if you remember that tear, it becomes heavy and heavy.
...
Best year of 2015! Stories, creativity, details, feelings... Pixar went back to the top, laughing and crying. When people are most fearful, it is actually when their emotions lose their dominance and become numb.. Sometimes happiness is not the most important, but the necessary grief is more successful in life, a time of sorrow and growth. There is an emotional driver in every human brain that allows us to adapt to the new environment, be with everyone, and live each day well in the ever-changing life.
...
May none of us have to grow up and every castle survive forever
...
Nice to see. I can't believe that a cartoon can make me cry from beginning to end. Not to say how sad, but from the heart of the touched. It will arouse you have so many memories, the affection and love, or have forgotten memories, everything is so real and delicate, and on the basis of such a story full of imagination. It's still growing and saying goodbye. That's convincing.
...