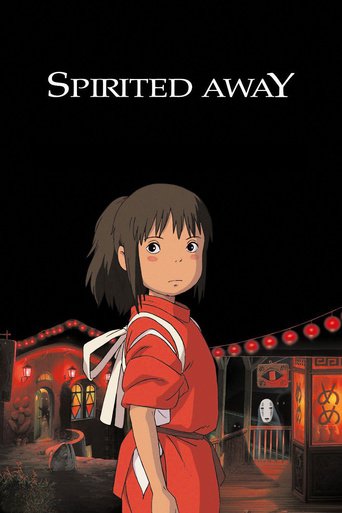 Spirited Away (2001)
Spirited Away is an Oscar winning Japanese animated film about a ten year old girl who wanders away from her parents along a path that leads to a world ruled by strange and unusual monster-like animals. Her parents have been changed into pigs along with others inside a bathhouse full of these creatures. Will she ever see the world how it once was?
...
Cast
Similar titles
Parents Kids Relationship Movies
Anime Movies
Reviews
It is interesting even when nothing much happens, which is for most of its 3-hour running time. Read full review
More
Great example of an old-fashioned, pure-at-heart escapist event movie that doesn't pretend to be anything that it's not and has boat loads of fun being its own ludicrous self.
More
It is neither dumb nor smart enough to be fun, and spends way too much time with its boring human characters.
More
Spirited Away presents an imaginative new world with fantastic characters and creatures. It reminds me of movies such as Labyrinth and Alice and Wonderland, where the bizarre becomes acceptable and reality is easily suspended. This film won't be enjoyable for some (it's very odd), but Miyazaki's folkloric fantasy is undeniably unique.
More
"An animation that brings happiness & joy In exciting new ways. Amazing soundtrack, gorgeous landscapes, deep characters & a unique world"
More
This film is a masterpiece by all means. The artwork, the music, the plot, the vivid characters. The film starts out pretty standard, but before you know you will drawn into the story, which is all but standard. You can not predict which surprise is around the next corner. After seeing it a couple of times over the past few years, i Always find new surprises en details. Also after seeing it, i immediatly want to return to the world of Chihiro. I saw both the english dubbed and the Original japanese version. I think I liked the japanese version more because of the mystery that is added. Subtitles don't mind me. If you have not seen it. Do it! You will understand why this movie is still rated so high after al these years.
More
I think this movie is just adorable- perfect for any age with mainly adult humour about an escort parlour and a girl on her first couple days at work- From falling in love too having a regular day time night time career as a bathing specialist ; the effects are just amazing. <3
More