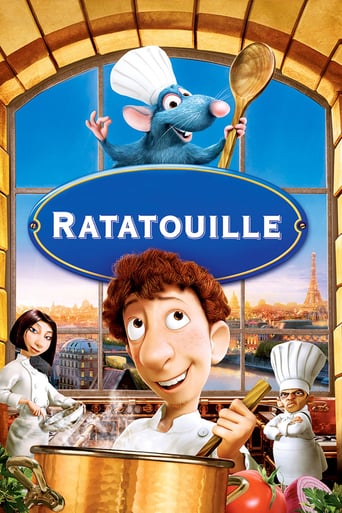 Ratatouille (2007)
In one of Paris' finest restaurants, Remy, a determined young rat, dreams of becoming a renowned French chef. Torn between his family's wishes and his true calling. Remy and his pal Linguini set in motion a hilarious chain of events that turns the City of Lights upside down.
...
Cast
Similar titles
Brother Brother Relationship Movies
Chef Movies
Reviews
The master chefs at Pixar have blended all the right ingredients -- abundant verbal and visual wit, genius slapstick timing, a soupcon of Gallic sophistication -- to produce a warm and irresistible concoction.
...
Brad Bird and Pixar Animation Studios are proving to be an unbeatable combination.
...
Ratatouille has the Pixar technical magic without, somehow, the full Pixar flavor. It s Brad Bird s genial dessert, not so much incredible as merely sweetly edible.
...
Brad Bird wrote and directed Ratatouille and tops his previous work. Since his work includes The Iron Giant and The Incredibles, this puts him somewhere between Chuck Jones and Michelangelo.
...
What makes Ratatouille such a hilarious and heartfelt wonder is the way Bird contrives to let it sneak up on you. And get a load of that score from Michael Giacchino, a perfect compliment to a delicious meal.
...