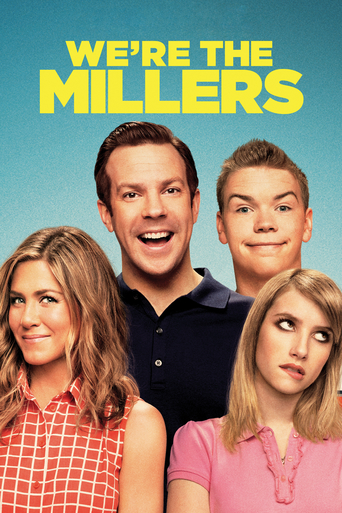 We're the Millers (2013)
A veteran pot dealer creates a fake family as part of his plan to move a huge shipment of weed into the U.S. from Mexico.
...
Cast
Similar titles
Police Movies
Drug Movies
Reviews
I saw this movie before reading any reviews, and I thought it was very funny. I was very surprised to see the overwhelmingly negative reviews this film received from critics.
More
Tells a fascinating and unsettling true story, and does so well, without pretending to have all the answers.
More
It is both painfully honest and laugh-out-loud funny at the same time.
More
Dave (Jason Sudeikis) is a small time drug dealer who finds himself in trouble. In order to square things, he agrees to travel to Mexico and smuggle back drugs. To make passage easier he creates a family illusion with the formulas misfits. Rose (Jennifer Aniston) is a stripper who just quit her job and can't pay her rent. Kenny (Will Poulter) is the inexperienced neighbor boy abandoned by his mother. Casey (Emma Roberts) is a homeless girl who hangs out in the neighborhood.Of course they get into trouble along the way. The plot of the film wasn't over powering. The comedy was watching these dysfunctional people come together as a family, even if it is just a mock family. The humor is often crude (It's a skateboard!) with Aniston reviving some of her potty mouth from "Horrible Bosses."There were some laughable moments, but overall it is a soft 4 stars.On the perv factor...the Aniston striptease which comes near the end was designed to be hot as she peels down to her undergarments. However, the truth be told, Demi Moore was better and bolder. There I said it.Parental Guidance: Plenty of F-bombs, crude talk and humor. No sex. Brief male Internet nudity. Women bra/panties.
More
I am not hardcore movie reviewer or film critic. When I went to watch this movie, I did not have much expectation. During the entire movie I was laughing from my mouth and stomach. It is a realistic, fast paced movie. All the actors in the movie have good chemistry with each other and the direction is top notch.Kathryn Hahn, Will Poulter and Emma Roberts act superbly in this film along with Jennifer antison and Jason Sudeikis. I could not understand why few people are given very low ratings for this movie.May be they are sadists. This movie is well worth your time.
More
Really liked this film, it was fun spending the time with this bunch. Plot maybe absurd or maybe not. But kudos to the writers and actors both pulled it off magnificently. Lots of laughs along the way, but also I liked these people. I wanted a happy ending, most films I want the hero to die because they bore me. If you just want to have a giggle watch this.
More
Wow, this movie is pure fun.I just don't want to ruin the fun so i will try my best to write this review spoil-free.This is the story of a presumably "Vacation" type family who gets into as much trouble as unexpected.There are so many fun twists and they are so good, trust me.The humor is just excellent, acting is mind blowing, especially when it comes to brawling.It's stupidly funny. If you haven't watched this movie, then it's a MUST WATCH!!
More