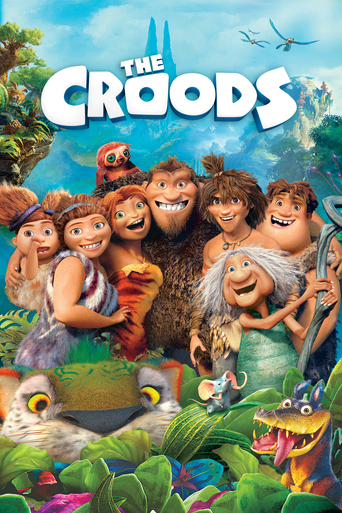 The Croods (2013)
The Croods is a prehistoric comedy adventure that follows the world's first family as they embark on a journey of a lifetime when the cave that has always shielded them from danger is destroyed. Traveling across a spectacular landscape, the Croods discover an incredible new world filled with fantastic creatures -- and their outlook is changed forever.
...
Cast
Similar titles
Family Movies
Duringcreditsstinger Movies
Reviews
Better than most people think
More
Each character in this movie — down to the smallest one — is an individual rather than a type, prone to spontaneous changes of mood and sometimes amusing outbursts of pettiness or ill humor.
More
Mostly, the movie is committed to the value of a good time.
More
Even though the characters are from movies,they are wonderful to watch.Many of this genre that i have watched have not been read before and don't want to. The plot is a small story where a family is moving together to a safer place to survive.If i want to explain each characters: Fathers always want their children to be at their side.The attempt that he makes on the counts is funny. As soon as a lover comes,it seems amazing to do anything than being said or done by any other person.The changes is bought in a subtle way and shown in a cute manner. She thrives to do things without hesitation as that of 'BRAVE'.The plot is interesting till the end.
More
When I first saw this movie in trailers and pictures I was certainly not a fan of the premise. I am not a huge fan of movies that are set in this era like Ice Age and several others but just yesterday I wanted to give the movie a chance and I was pleasantly surprised!The animation is wonderful and the character and monster design are very different and surprising. The world they live in is very creative.The movie has a great pacing and also knows where and how to let the viewer feel different emotions. The movie can be funny the movie can be sad and it works wonderfully.If you were not convinced by the marketing or trailers do give it a shot. It is very worth your time.
More
The Croods (2013): Dir: Kirk DeMicco, Chris Sanders / Voices: Nicolas Cage, Emma Stone, Ryan Reynolds, Catherine Keener, Cloris Leachman: Prehistoric animation about one of the original families. The head of the cave is Grug and he is strong and constantly concerned about the safety of his family. His daughter Eep is adventurous and disregards her father's paranoia. Others include the wife, son, baby, and granny. Eventually Guy enters the picture when Eep sneaks out of the cave and marvels at his creation of fire. Guy warns them about the end of the earth and when an earthquake destroys their cave they are off to find new refuge. Not much of a plot and the structure is one simplistic encounter after another. The saving grace is a climax that presents Grug in a position where he must think on the spot and delivers on a brilliant plot solution. Directors Kirk DeMicco and Chris Sanders are backed with a lot of corny story elements but ultimately it is the animated presentation that scores the highest marks. Many of the characters are flat but Nicolas Cage is amusing voicing Grug who competes with Guy for his family's affection and trust. Emma Stone voices the ambitious and curios Eep who has her father's strength. Ryan Reynolds voices Guy whose resourceful keen senses solve much yet create tension with Grug. Other roles are not as well developed including a granny who has more energy than she should have at her prehistoric age. The animation is the highlight and the theme is family and the willingness to cut ties and trust those we care for to make beneficial choices. Score: 6 ½ / 10
More
This film is one of the best movies I've watched ever!!!Congratulations to the entire cast and production. A special congrats to Nicolas Cage, who really did a great job with the role!!!A film that entertains us from the beginning to end. Funny dialogs, with emotion and humor. I loved the way that the human emotions was used in the film. After all, we all have our conflicts and struggle, and seek a new tomorrow, even better. In some scenes I cried. So beautiful!!! I'm looking forward to watch the sequel.
More