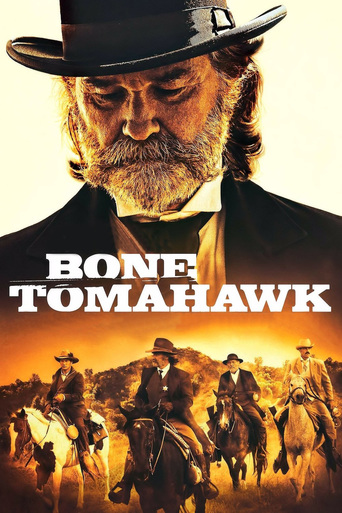 Bone Tomahawk (2015)
Four men set out in the Wild West to rescue a group of captives from cannibalistic cave dwellers.
...
Cast
Similar titles
Murder Movies
Violence Movies
Reviews
The best films of this genre always show a path and provide a takeaway for being a better person.
More
One of the worst ways to make a cult movie is to set out to make a cult movie.
More
The film never slows down or bores, plunging from one harrowing sequence to the next.
More
Nerve wrecking, brutal, suspenseful (and sometimes gory) western/horror with great acting, fantastic cinematography and occasionally hilarious dialogue. Amazing film, highly recommended.
More
From its title, over its premise, to its casting, Bone Tomahawk is a movie that heavily relied on coolness, yet in the end, it didn't deliver it enough to make it a movie you'll end up loving. Besides a single awesome trope, there aren't any original specialties about this western, leaving it without that sense of wonder a movie with this type of premise needs to have. That it somehow promises it will have. It's like if Mad Max: Fury Road only had 5% of its weirdness, of its originality. And it seems like it could've been a Fury Road for westerns. Yet the makers didn't have enough creativity or bravery to step on the imagination paddle. Almost like they didn't care to.Only one character doesn't feel like a stereotype, and while the acting is on point for the majority of the time, the generic sentences drown out the unique exchanges just with their sheer numbers. You do end up caring about the outcome, which is why the third act is so disappointing in the end. Other thing that didn't help is that music is missing from the film completely, probably due to the director's inexperience. This is a movie that will surely be remade in 20 to 30 years as it had mass potential but misfired.Only for the hardcore western enthusiasts.
More
I've just watched this film. What on earth happened? How did it get 7/10 and 4 stars on Sky. Crazy. Terrible fight scenes. Odd gore. Bad acting. Bizarre film in general. Don't bother unless you want to be baffled.
More
Bone Tomahawk is a western/horror with a good cast. Kurt Russell, Patrick Wilson, Matthew Fox, surely can't miss, well it sure did, it was horror-ible. Most of the flick is these three actors and an annoying Richard Jenkins walking. Kurt Russell is pretty non-existent even though he is in the whole film. The story is poor and in poor taste and it's just gore for gore's sake. Surprised these class actors got involved in this level of trash. Will try not to watch any more films by S.Zahler.
More