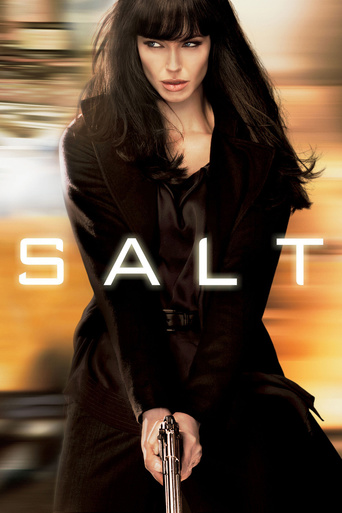 Salt (2010)
As a CIA officer, Evelyn Salt swore an oath to duty, honor and country. Her loyalty will be tested when a defector accuses her of being a Russian spy. Salt goes on the run, using all her skills and years of experience as a covert operative to elude capture. Salt's efforts to prove her innocence only serve to cast doubt on her motives, as the hunt to uncover the truth behind her identity continues and the question remains: "Who is Salt?"
...
Cast
Similar titles
Murder Movies
Revenge Movies
Reviews
The thing I enjoyed most about the film is the fact that it doesn't shy away from being a super-sized-cliche;
More
This is a coming of age storyline that you've seen in one form or another for decades. It takes a truly unique voice to make yet another one worth watching.
More
Great story, amazing characters, superb action, enthralling cinematography. Yes, this is something I am glad I spent money on.
More
I'm confused about all of the bad reviews. I think people forget that it's an action film and not a documentary.there are bound to be unrealistic moments but if you were thinking you'd learn your Russian/American history from this movie you're going to be very disappointed. I thoroughly enjoy this movie every time I watch it and hate that there probably won't be a second movie. Angelina is bad ass,there are a lot of plot twists and it all ties in together in the end...and there are ,of course,conspiracies within the government.what's not to love?
More
Even though she made pretty irrational things during the film as you would normally expect in these kind of movies with lead men roles, it's when the movie gained my respect when she took her high heels off before all the action has begun!Also was a great movie, would recommend to everyone, Angelina killed it.
More
How that got over 4 stars is beyond me. Jolie, terminally ill cancer patient constitution, goes trough a hole bunch of CIA agents, russians spies, FBI agents, NYPD etc. without breaking a sweat or even trying , as if they were untrained gas attendants. She then manages to save the world. The end. Dumb, dumb, dumb. Fast paced convoluted yet stupid story. Bad dialogues. Decent acting.
More
A totally absurd story without rhyme or reason developing itself in a series of not well explained, incredible or even implausible details. A CIA agent (performed by Angelina Jolie) is indicated during his interrogatory at CIA headquarters by a supposed deserter Russian spy as being herself a Russian agent and spy within USA. This leads her to run away and to a series of events full of goofs such as anachronisms, errors in geography, factual errors, plot holes and revealing mistakes. It's rather incredible the physical way how Salt (the CIA woman Russian agent) gets rid of several agents and policemen with whom she involves in physical struggle. The supposed Russian deserter is fake and he is working along with Salt from the beginning so we don't understand why he comes to expose her to CIA as the agent who has the task of killing the Russian Vice-president while in USA when in fact after evading himself violently from CIA custody we see that they are collaborating with each other. We can hardly understand who is with or against whom and why since sometimes some characters' behaviours are contradictory. And why is Salt's husband in danger of being killed by Russian agents since he is just only a scientist who has nothing to do with the film plot? The only positive feature of this movie is the technically well filmed some fights and chasings
More