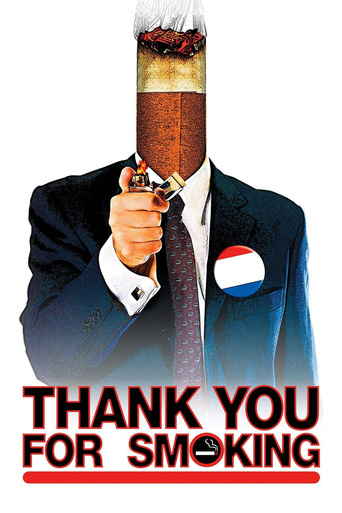 Thank You for Smoking (2005)
The chief spokesperson and lobbyist Nick Naylor is the Vice-President of the Academy of Tobacco Studies. He is talented in speaking and spins argument to defend the cigarette industry in the most difficult situations. His best friends are Polly Bailey that works in the Moderation Council in alcohol business, and Bobby Jay Bliss of the gun business own advisory group SAFETY. They frequently meet each other in a bar and they self-entitle the Mod Squad a.k.a. Merchants of Death, disputing which industry has killed more people. Nick's greatest enemy is Vermont's Senator Ortolan Finistirre, who defends in the Senate the use a skull and crossed bones in the cigarette packs. Nick's son Joey Naylor lives with his mother, and has the chance to know his father in a business trip. When the ambitious reporter Heather Holloway betrays Nick disclosing confidences he had in bed with her, his life turns upside-down. But Nick is good in what he does for the mortgage.
...
Cast
Similar titles
Advertising Movies
Based On Novel Movies
Reviews
The movie is amusing and clever but only skin deep.
...
An entertaining satire on contemporary morality that skewers corporate spin culture, political correctness and that most rhetorical of concepts in Bush s America, personal freedom.
...
Reitman spares no one in this enjoyably cynical, merciless comedy, which is often so funny, you don t have time to notice how utterly bleak it is, too.
...
Ethics never get in the way of the jokes. Both sides of the political fence will feel royally skewered.
...
Despite its many strengths, Thank You for Smoking hovers around mediocrity, and its lasting impression is like a puff of smoke that is dissipated by a strong gust of wind.
...