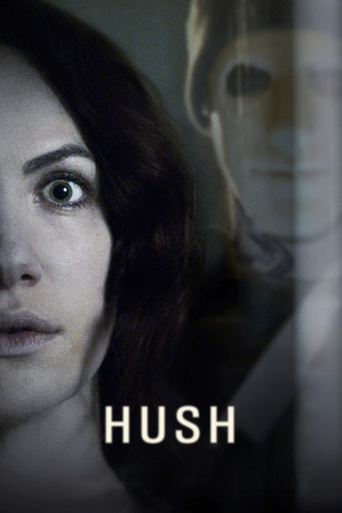 Hush (2016)
A deaf woman is stalked by a psychotic killer in her secluded home.
...
Cast
Similar titles
Murder Movies
Serial Killer Movies
Reviews
Watch something else. There are very few redeeming qualities to this film.
More
After playing with our expectations, this turns out to be a very different sort of film.
More
It's a feast for the eyes. But what really makes this dramedy work is the acting.
More
But there is one thing that concerns me :p How come she did'nt have a landline phone in such a house
More
I hesitated before watching this one because I don't like horror movies that are too scary, and that mask made me feel sick. Well, luckily the mask didn't stick around for long which I found a bit strange because it did make the man 100% scarier.This movie would have been so ordinary and basic if the main character had not been deaf. That added a new level of horror because she never knew where the man was unless she saw him. I found my heart beating so fast at times because somehow I could feel her panic through the screen. Maybe that was due to the fact that the actors were great or maybe the director just did a good job. Then to the flaws. At times the movie was very predictable and Maddie made some very strange decisions that annoyed the heck out of me. It's a horror movie so obviously it has to take place at night, which made every scene very dark. My screen was at full brightness and I still had trouble seeing what was going on. I also found it very weird that the viewer never gets to find out who 'The man' is and most importantly, why would he want to kill Maddie? I could maybe watch this one again. Not too scary but enough to leave you biting your nails at times. Probably too dull for someone who loves terrifying horror films. The actors were great and fit their roles perfectly. Not too much of those boring filler scenes. The best part of the movie was however the fact that the cat did not die, I could hug the writers for that.
More
My husband and I just finished watching this movie. While he would like that hour and a half of his life back, I thought it was a good thriller. The scene of him texting her with photos of her sitting in her own house was genius. I was wondering if anyone else thought that the plot of the movie might actually be Maddie envisioning this story as she sat at her computer with writer's block? That's how I concluded it; with it not actually occurring but was dreamt up by the writer, herself. Anyone else?
More
MINOR SPOILERS: Today, most horror films are very unoriginal with sequels, remakes, or just poorly written films with many cliches. Hush was one of the better films you'll see in this day and age. This film has good similarities to past slasher films. For the first quarter of the film it was pretty creepy but once the killer took off his mask it sort of lost its creepyness but it didn't take away the suspense of the film. The entire time I was on the edge of my seat. Not once have I gotten bored watching it. Pacing very well done. While not being perfect, Hush is a nice breath of fresh air this genre needed.
More