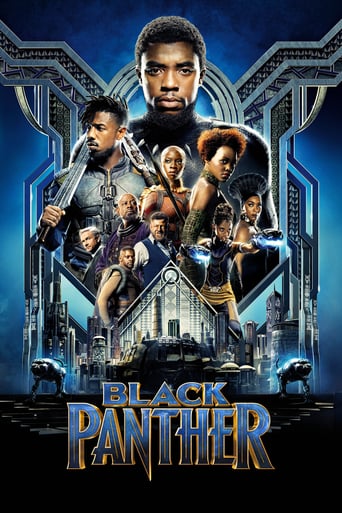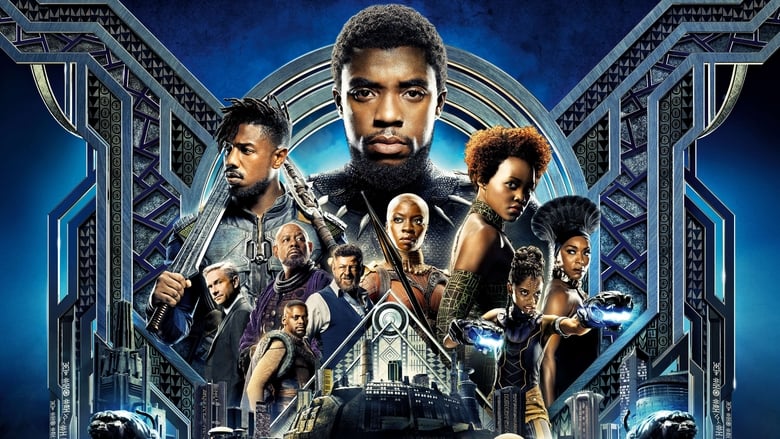 Black Panther (2018)
King T'Challa returns home from America to the reclusive, technologically advanced African nation of Wakanda to serve as his country's new leader. However, T'Challa soon finds that he is challenged for the throne by factions within his own country as well as without. Using powers reserved to Wakandan kings, T'Challa assumes the Black Panther mantel to join with girlfriend Nakia, the queen-mother, his princess-kid sister, members of the Dora Milaje (the Wakandan 'special forces') and an American secret agent, to prevent Wakanda from being dragged into a world war.
...
Cast
Similar titles
Africa Movies
Based On Comic Movies
Reviews
The lighting can be unnatural, and sometimes the acting is awkward; the concentration on process seems numbing. But those very defects give the film a special mood, lucid in its nastiness, but not too far from black surrealism.
...
Created IMBD Account Just To Write This Review---That's how important is was for me to explain my thoughts on this movie. Super disappointed in this one. I say disappointed because I was really excited to see a great Super Hero movie with real Cultural cues. Unfortunately, that didn't happen.Cultural Cues: MISSEDIt wasn't clear if this movie was endorsing Black American culture or African culture. No, they are not one-in-the-same. The futuristic Wakanda has graffiti on the walls (American Street Art) as well as tribal African painting that is chipped (is it impossible for paint to stay fresh in Africa?) and there are street merchants selling hand-woven baskets (fits the "tribal" scene, but not exactly the advanced technology city they were trying to illustrate).Music seemed odd and try-hard. In a movie celebrating black culture, I was expecting some amazing, compelling bass-heavy, Kendrick-themed action scenes. Instead, we got typical Super Hero theme music with a snare added to it. Acting & Character Development: MOSTLY OKMichael B Jordan gave an excellent, powerful performance as Killmonger. His physique was massive and he was extremely compelling in comparison to other movies I've seen him in. Unfortunately, as a villain, it wasn't clear if we were rooting for him or against him. His character definitely displayed Leadership and strength that T'Challa (Black Panther) was lacking. I kinda wanted Killmonger to change his ways and become the permanent leader.Klaue, played by Serkis was also excellently well executed. But again, he was still pretty likable. No villain to hate means so protagonist to root for.Jabari tribe... what? Seemed more like the black fraternity Omega Psi Phi with their barking and mindless (and unexplainable) barbarism in an advanced societyStoryline & Message: EXTREMELY CONFUSINGIs the motivation political, or revenge? Is colonization good or bad? Is this a black/african versus white movie, or a weak versus power movie? Why is the king of the country determined by the best fighter? Is Wakanda advanced, or tribal? both? Alien precious metal, but no Foreign Affairs policies? Is opening an outreach center in the ghetto really enough Social Responsibility initiative for the most advanced society ever?
...
3 stars for visuals---Good idea to place 'Something Good' in Africa. Now take the idea and make a good story. Huh? Lets just mix&match visual effects and feel-good myths about (good) Africa and the (bad) western world. Good looking actors do the rest.How is the leader of the most advanced technological society in the world chosen? Of course, by a fight to the death! The survivor gets absolute power. That results in is peaceful, diverse society (tribal of course), women are empowered (the leaders are men of course).Strange mix of movie cliches with deep wishes from the PC squad packed in a visually appealing 3D movie.
...
Lion King with High Tech Plus Tribe Dances---A lion king story modernized with some high tech outfit,injected with some fighting, shooting, and tribe dances.
...
Why are there so many positive reviews of this movie ?---I watched the movies last night. I have not written a review for a long time but i just wanted to help out my friends here who might be misguided by all the positive reviews here. I love all Marvel movies, they are not Oscar winners but my expectation is to be entertained and the most important ingredients have beenLiterally "out of this world" action!Outstanding effectsWell placed humor ( one liners and all - Best example Thor - Ragnarok) Overall entertainmentThis movie fails on all this. Its a dragged storyline, banal dialogues e.g. a fight scene, someone seems to be hurt and the dialogues go like "Hw are youuuu" "I am good, and you" "I am good too" "Let's go". Taken straight from a "Learn English conversation in 5 minutes" Chapter IOkay special effects, nothing special,lets say 20 percent of normal Marvel extravaganzas.The story line is weak and goes round and round and round...No menacing bad guy. The potentially menacing one had a lesser role to play.Very stupid and misplaced one liners, completely out of the blues some of them. All in all; i am giving it a 4 , but it could be 5 or 6 if expectations are lowered but it is certainly not the Marvel that we know.
...