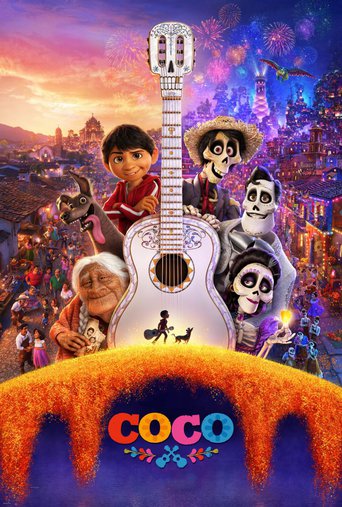 Coco (2017)
Despite his family's baffling generations-old ban on music, Miguel dreams of becoming an accomplished musician like his idol, Ernesto de la Cruz. Desperate to prove his talent, Miguel finds himself in the stunning and colorful Land of the Dead following a mysterious chain of events. Along the way, he meets charming trickster Hector, and together, they set off on an extraordinary journey to unlock the real story behind Miguel's family history.
...
Cast
Similar titles
Music Movies
3d Movies
Reviews
I gave it a 7.5 out of 10
More
I think this is a new genre that they're all sort of working their way through it and haven't got all the kinks worked out yet but it's a genre that works for me.
More
I enjoyed watching this film and would recommend other to give it a try , (as I am) but this movie, although enjoyable to watch due to the better than average acting fails to add anything new to its storyline that is all too familiar to these types of movies.
More
A great Pixar film. I love it. Good story and full of emotions. A masterpiece.
More
This movie is abosulitly amazing you should watch it i cry to many time in this movie like a baby wow everyone can watch it amazing you will have good time you will feel like your inside this movie you will feet what the charcter feel good job pixar really good job
More
Coco is another great classic from Disney Pixar. The characters are memorable, especially Miguel. The colors are beautiful, the cinematography is gorgeous, and the editing was fantastic as well. The songs were also amazing, especially "Remember Me."
More
Simply the best animated feature for many years. A great film with real heart. If you don't end up weeping perhaps you are already in the land of the dead!
More