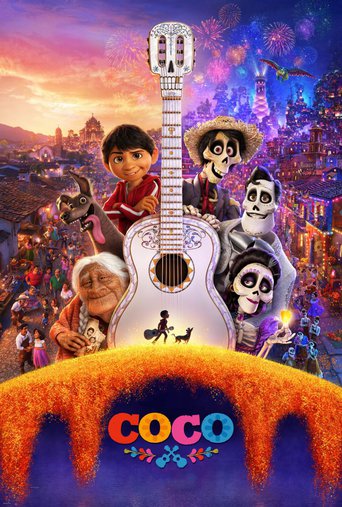 Coco (2017)
Despite his family's baffling generations-old ban on music, Miguel dreams of becoming an accomplished musician like his idol, Ernesto de la Cruz. Desperate to prove his talent, Miguel finds himself in the stunning and colorful Land of the Dead following a mysterious chain of events. Along the way, he meets charming trickster Hector, and together, they set off on an extraordinary journey to unlock the real story behind Miguel's family history.
...
Cast
Similar titles
3d Movies
Afterlife Movies
Reviews
The world of the dead is also really beautiful. I almost have to immerse myself in the world like frida's painting. In fact, when I think about it carefully, I am not touched by the concept of family. Let a man die with hatred, and die again in poverty, he can be a daughter, another movie may be a lover, maybe a music dream But such unattainable regrets are always moving.
...
I give you all my blessings without any conditions.
...
COCO would make me cry every time she came on stage, even if she was sitting quietly in her chair. I just thought about my grandmother, and how she sat and looked at me so kindly as a child
...
Spectacularly colourful with a sweet, (albeit predictable) path. Certainly not a misfire from Pixar, but also did not appeal to me personally in the way that many of their other films have._Final rating:★★? - Not quite for me, but I definitely get the appeal._
...
Overwhelmed!---I'm a 24 year old student who sometimes tends to overthink about the values of life and how one, including myself, expresses these kinds of thoughts through every form of art that tells a story. So as a person that really puts his soul to a movie he watches I have to say that this film is one of the most beautiful things I've ever had the pleasure of witnessing.Coco does a fantastic job of capturing the viewer from the first moment. It cleverly captures the beauty of the "Day of the Dead" tradition, by unfolding one of the most heartwarming stories I've ever seen in a movie, around it. The film features a young Musician called Miguel and the pursuit of his dream of being a musician against his family's approval. Throughout the movie while Miguel engages in an adventurous journey through the land of the dead, he is caught between the love he has for music and the importance of family bonds. Quiet a simple and pretty well covered subject. Somehow, Coco manages to so simply and beatifully capture the essence of what it means to be human. What it means to love and what it means to have passion for the things and the people you love. The story was told in such an elegant way that it didn't make me think about the values it represented, but instead it made me feel them, without me even analysing what I was watching. It did it so gradually that at some point near the end I was so overwhelmed by a scene, which definetely goes to my "top 10 best movie scenes" list, that I caught myself crying. Not tearing up like I usually do when a scene touches me. Actually crying.I could go on and on about Coco, but I'll leave with saying that this is a fantastic movie and I honestly feel grateful that I had the chance to watch it.A must see!!!
...