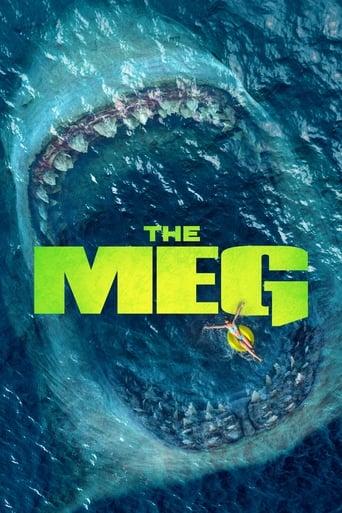 The Meg (2018)
A deep sea submersible pilot revisits his past fears in the Mariana Trench, and accidentally unleashes the seventy foot ancestor of the Great White Shark believed to be extinct.
...
Cast
Similar titles
Based On Novel Or Book Movies
Beach Movies
Reviews
Good start, but then it gets ruined
More
Through painfully honest and emotional moments, the movie becomes irresistibly relatable
More
It is a whirlwind of delight --- attractive actors, stunning couture, spectacular sets and outrageous parties.
More
Shark thriller movies were first critically recognized after the release of the 1975 masterpiece Jaws. Since then the genre has become a Hollywood favorite among audiences of cinema. Some honorable mentions are The Shallows and 47 Meters Down. While films like these may not be legendary by Hollywood standards (Jaws being the exception), they certainly make for great times at the movies. That being said, films like these are looked down upon for often being impractical in their presentation. If people are expecting to find realism in a film about unusually large sharks menacingly perusing helpless swimmers and sailors on boats they can easily turn over, they are looking for it in the wrong kind of film. Visually this movie is stunning. Megalodon himself is larger than life to the point where he can't fit in the entire projection screen. It's direction and cinematography deserve recognition for the results are jaw dropping, or in Megalodon's case jaw crunching. Like all shark thrillers, this film's suspenseful entertainment value is primarily what it has going for it. Where it unfortunately lacks in introducing a cast of strong characters, it succeeds with providing audiences with enough jump scares and terrifying action sequences to satisfy their expectations. To repeat, any audience viewers hoping to find realism in The Meg's story, action, character decisions or the resolution for that matter, look for it somewhere else. Realism will never exist in these types of creature horror films. Go watch The Meg with a positive state of mind, shut the brain off, enjoy what good it has to offer and remember what all the people involved in the project intended for it to be from the beginning which is a fun, exciting man vs. prehistoric beast flick that may leave beach visitors and boat travelers hesitant about going back out into the ocean again.
More
My expectations were not too high but I must admit I was positively surprised by the special effects. The script is not too credible but good enough to make it a reasonably entertaining movie.
More
If you enjoy predictable, rigidly formulaic monster moves with 2d characters acted by wooden actors, with a splash of tacky cutes and a dash of trite romantic interest, then this is the film for you. No exciting twists, no unexpected turns, no exceptional performances. Just the same ole same ole - including the standard world weary, unjustly discredited, reluctant, boozy hero.
More
I found some of the special effects in the film entertaining, but overall, I didn't think it was very suspenseful, and there were no real surprises. Some of the scenes were basically lifted directly from 'Jaws,' or were at least very similar (perhaps on purpose). I'm not sure what I expected exactly, but I found myself starting to doze off in the second half of the film. I think I would have enjoyed it far more had the original vision with an R-rating been allowed. A film like this needs a high gore-factor to avoid being just another shark movie. As is, this could basically be on network television, though I applaud the missing 'f-word,' which is way overused in 'entertainment' (not that I'm a prude, but I find it rarely adds anything positive to the dialog). The romance aspect seemed rather forced and was unnecessary, though I would have been ok with the implication of a romance starting as the film ended.So basically, not a bad movie, but something just seemed lacking. I thought it was the sort of film one would have to see on the big screen to really enjoy, but after seeing it, I don't think you'd lose much seeing it on your basic home television.
More