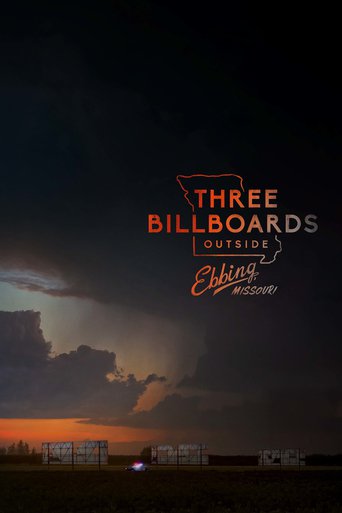 Three Billboards Outside Ebbing, Missouri (2017)
A woman takes on the local police department after her daughter is murdered.
...
Cast
Similar titles
Murder Movies
Small Town Movies
Reviews
Sorry, this movie sucks
More
SERIOUSLY. This is what the crap Hollywood still puts out?
More
It is so daring, it is so ambitious, it is so thrilling and weird and pointed and powerful. I never knew where it was going.
More
The film never slows down or bores, plunging from one harrowing sequence to the next.
More
I have been waiting to know the rapist and what will happen to him after all of these 1 hour and 55 minutes' events and scenes and the movie has just ended safely with nothing at all for me.
More
This film checks all the PC/social justice boxes within the first 20 minutes. Rural law enforcement is mocked and berated, white males are portrayed as corrupt, incompetent and racist/sexist. We are informed that one deputy tortures young blacks and homosexuals.In American cinema today, its almost as if there were some sort of PC censorship committee that puts its stamp of approval on all material. This is now THE criteria for winning Academy Awards. If this pattern only happened in one or two films, it might be overlooked. Its in every single serious film produced these days.When you get past all the propaganda, you are left with a pathetic ripoff of a Coen Brothers film. Plot holes and unbelievable coincidence reveal poor, uninspired screen writing. This is a that film that relies way too much on the performances of its cast carry it over the considerable rough patches. Its a strong cast, aside from Woody Harrelson, who has been in TOO many films, such that we're not sure whether he's playing himself or an actual unique person. This is yet another film that reveals the corruption of our film industry by those with political agendas. The state of film critique is also clearly corrupt when this sort of material is rewarded with Oscars. Shameful
More
This movie is well-acted, well-filmed, well-paced. Literally no complaints in these areas. The only minor issue I have are some script choices-McDormand's character has some quips that would seem better suited to a Jane Austin novel were it not for the constant f-words thrown in. And while the characters are quite complex and evolved well throughout the film, their spoken occasionally seem effusive for no real reason. But some script issues aside, this film was difficult to watch. Not because of the violence, or the subject matter. But because it is a story of characters completely consumed by grief, unfulfilled desires, hopelessness, and futility. This concept is not necessarily original, but the film provides an interesting story and definitely kept me engaged. The main thing to enjoy about this film is that all the characters are portrayed as flawed, deeply disturbed individuals, all finding was to cope with existence. Moving from one crisis to the next, they deal with life, make their mistakes, and continue on. My biggest issue (outside the script) is that no real people "make this many mistakes" and don't go to jail. The film portrays Missouri as a sort of wild-west atmosphere where people take the law into their own hands (Molotov cocktails, arson, battery on minors while on school grounds throwing people out of windows-all done with literally no legal ramifications) This kind of behavior is just simply not the case any more in this country, and so it is an incredible suspension of disbelief being requested on the part of the viewer. But as a film, I thoroughly enjoyed it for the most part-if not solely for the acting of McDormand and Rockwell.
More
Entertaining because of the writing and the acting. But they make the police look so stupid. The writers must hate cops, like most of Hollywood.
More