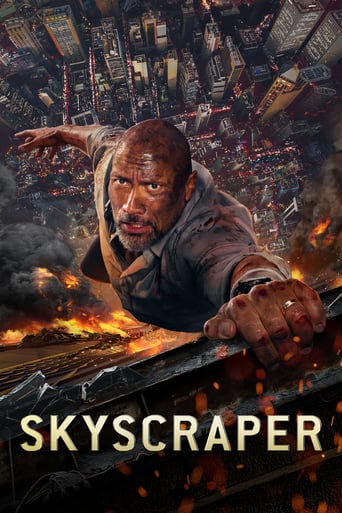 Skyscraper (2018)
Framed and on the run, a former FBI agent must save his family from a blazing fire in the world's tallest building.
...
Cast
Similar titles
China Movies
Fire Movies
Reviews
Self-important, over-dramatic, uninspired.
More
I saw this movie before reading any reviews, and I thought it was very funny. I was very surprised to see the overwhelmingly negative reviews this film received from critics.
More
The movie's not perfect, but it sticks the landing of its message. It was engaging - thrilling at times - and I personally thought it was a great time.
More
One of the most extraordinary films you will see this year. Take that as you want.
More
This film made me laugh really hard and that because i stopped and made jokes with my boyfriend. It had a lot of "Come on" moments. This film is just not true. First of all you can not make that jump. Even if you'd make it, you would have broken arms from the landing. The bulding was hot enough that planes could not fly near it, still The Rock manages to stay with bare hands. And the final scene, they would have died. The smoke that puts out the fire,kills us. But 7 because it was super.It had some really cool effects. If i had seen this movie on 3D it would have been perfect.
More
Dwayne Johnson's road from WWE wrestling superstar to Hollywood's highest paid male film star has not been easy and his film success has been like a roller coaster with many ups and downs. His films have been box office successes like "Jumanji: Welcome to the Jungle" & "The Fate of the Furious" but he has also had some very painful flops like "Baywatch" & "Hercules". The truth is even while he is been in high demand and incredibly busy the last few years, his films aren't always stellar, but Johnson is without a doubt one of the most capable action / blockbuster stars working today. 2018 has been a good year for Johnson, with his previous two films doing solid business. His third film might be his most ambitious and his fans are hoping it will be one of his best. Johnson plays Will Sawyer a former soldier and FBI Hostage Rescue Team leader who was badly injured during a hostage mission, losing his leg. After marrying the woman who performed the surgery that saved him and having twins, he is now a family man that is trying to start his own business assessing the safety and security for skyscrapers. A former FBI team member of his has set him up for his most important job yet; inspecting & consulting for "The Pearl", the world's tallest skyscraper in Hong Kong. During his meeting with its billionaire owner, Zhao Long Ji, Sawyer is given a tablet that has access to the building's security and safety systems. The tablet is valuable to a group of international terrorists who have already extorted Zhao once, but now has the money laundering tracking information on its leader, Kores Botha in the form of a memory card. Botha wants the card and will do anything for it. The terrorist get the tablet from Sawyer and use it to set the building on fire with Zhao in his penthouse and Sawyer's family right above the fire. Sawyer returns to the building to save his family and battle the bad guys. Inevitably, anyone who watches this film will compare it to "The Towing Inferno" and "Die Hard", which are both far more superior to "Skyscraper". The film simply has too many flaws, glaring plot holes and a complete lack of humor, which is a good ingredient for any blockbuster popcorn film. It's the later complaint that really troubled me the most since it made the film seem less fun and watchable. It really would have helped if the writers had put some humor into the film instead of just relying on the action sequences. Speaking of those, the film does have many but they are mostly of Johnson having to perform a death defying stunt to get to his family. Most employ him barely catching a ledge or making an unbelievable jump, despite only having one leg. I don't mind these kinds of scenes but "Skyscraper" really seems to push them on its audience, they are exciting but they remind us we are watching a movie, where these stunts only succeed. One of the hardest to believe has him climbing a huge crane in mere minutes and then jumping off of it. This superhuman act was way too incredible to believe. One other huge advantage that "Die Hard" has over "Skyscraper" is a very good bad guy, the villain in this film is a bore. No charisma or appeal whatsoever. Even the building, which is probably very cool, gets pushed aside without much fanfare. In the preview we got the sense that the sheer size would play into the film, but I really didn't get that sense very often. One thing I did appreciate was that they didn't waste the role of the building's owner. Most films would have had him killed early or even stupidly made him the secret villain, this film made him smart, good and important to the story; something refreshing in most popcorn films. The one thing I hated the most was the ending that was ripped from "Enter the Dragon", if you are a fan of the film and see this you'll know what I mean. Overall, I would say that "Skyscraper" is an exciting film, but one with serious flaws and a real lack of what makes popcorn films much more entertaining. They had one of the best popcorn action stars at their disposal but dropped the ball and failed to use him like they should have. I went in with high hopes but walked out thinking the film should have been much more or in the least I have seen a better version of the film.
More
Brilliant and best movie of the year. We need more disaster movies like this.
More
This movie is a exited and inspiration movie This movie is family antrataiment and feel good movie
More