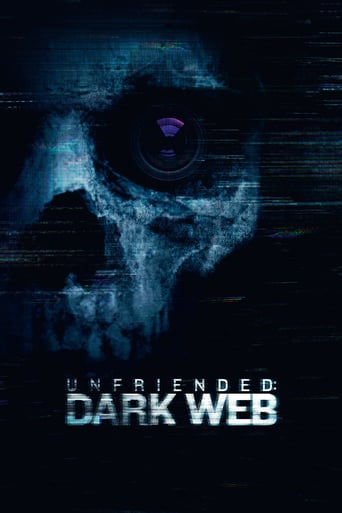 Unfriended: Dark Web (2018)
​When a 20-something finds a cache of hidden files on his new laptop, he and his friends are unwittingly thrust into the depths of the dark web. They soon discover someone has been watching their every move and will go to unimaginable lengths to protect the dark web.
...
Cast
Similar titles
Sequel Movies
Ghost Movies
Reviews
Very very predictable, including the post credit scene !!!
More
Nice effects though.
More
I wanted to but couldn't!
More
Absolutely Brilliant!
More
Unfriended: Dark Web: Matias (Colin Woodell) is a bit of a nerd but he really loves his deaf girlfriend, Amaya (Stephanie Nogueras), he's working on an app to translate his spoken words into text but she would prefer if he learned sign language, things aren't going great. but it's games night and he joins his friends online to have some fun. He has a new laptop and and as the games progress he finds hidden files and a Norah C IV starts to contact him claiming the laptop is hers, yes: he found it. But the files turn out to be vids of women who have been kidnapped and the abductors could have murdered them. The gamers are drawn into a game of cat and mouse with the denizens of the Dark Web as Amaya comes under threat.Tension builds throughout the film as the action unfolds on Skype, messages, pop-up screens and side windows. Unwise decisions are made as the online and real world battle ensues. Adequate acting all round apart from a few OTT moments by gamer AJ (Conor Del Rio) result in a convincing enough film with some shocks and frights. A worthy directorial debut by Stephen Susco who also provides the screenplay. 7.5/10.
More
UNFRIENDED: DARK WEB (2018) * Colin Woodell, Stephanie Nogueras, Rebecca Rittenhouse, Betty Gabriel, Andrew Lees, Savira Windyani, Connor Del Rio, Alexa Mansour, Chelsea Alden, Bryan Adrian, Douglas Tait, Rob Welsh, Maya Nalli, Eric Watson. Unnecessary (and totally unwanted) sequel (and want of a franchise apparently) to the cyberhorror film this time with six vapid young friends who uncover a downward spiral of viral proportions when they find themselves enmeshed in a cruel twist of fate: a stolen laptop with access to unspeakable crimes, blackmail and homicidal tendencies. Delete account at all costs. (Dir: Stephen Susco)
More
If this movie has this poor score is because was badly produced. The dark web has a lot of interesting things and lots of information you can take advantage of but that score reflects the poor reaserch.
More
'UNFRIENDED: DARK WEB': Four and a Half Stars (Out of Five)A stand-alone sequel to the 2014 hit found footage horror flick 'UNFRIENDED'. This one tells the story of a teenager who steals a laptop only to discover that the original owner is watching him and his friends, and he'll do anything to get it back (including kill them). The film was written and directed by horror screenwriter turned first time feature filmmaker Stephen Susco. It stars Colin Woodell, Stephanie Nogueras, Rebecca Rittenhouse, Betty Gabriel, Andrew Lees, Connor Del Rio and Savira Windyani. The movie has gotten primarily positive reviews from critics, but it kind of bombed at the Box Office it's first weekend. I really enjoyed it, much like I did it's predecessor. Matias O'Brien (Woodell) is working on an app to help him better communicate with his def girlfriend, Amaya (Nogueras). She's not impressed by it though, and she's instead upset with him about it. While trying to reconcile things with her, Matias receives a Skype call from his other friends wanting to do game night. Matias engages with them, while still trying to makeup with his girlfriend, and he's also receiving hostile messages from the original owner of the laptop he's using, which he stole. He later finds out that the guy he stole from is watching him and his friends, and they're all in grave danger over it. The movie is intense and extremely creepy and disturbing, almost for it's entirety. I've been getting bored with so many slow-paced movies lately, and I sometimes even have trouble paying attention to them, but not this one. I was totally involved with it, from start to finish. Which is kind of the way I felt about the original film as well, and all really good horror movies in general. This is definitely one of those 'really good horror movies'. I highly recommend it.
More