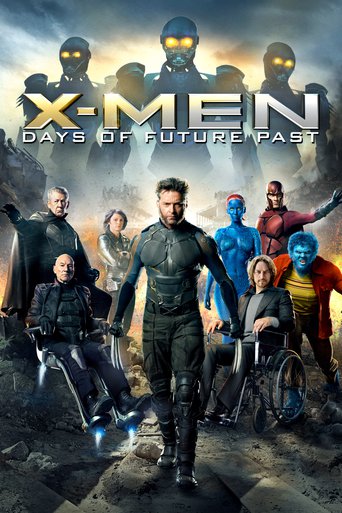 X-Men: Days of Future Past (2014)
The ultimate X-Men ensemble fights a war for the survival of the species across two time periods as they join forces with their younger selves in an epic battle that must change the past – to save our future.
...
Cast
Similar titles
1970s Movies
Aftercreditsstinger Movies
Reviews
Bryan Singer keeps things moving along briskly enough that you can just go along with the ride of Superhero Stuff without getting bogged down in the labyrinthine plotting if you don t want to.
...
While it s more dramatically diffuse than the reboot and lacks a definitive villain, the new film is shot through with a stirring reverence for the Marvel Comics characters and their universe.
...
Not since 2003 s "X2: X-Men United" has this filmmaker tapped so effortlessly into his talent for comicbook gravitas, his ability to mine emotional resonance, pop poetry and (crucially) sly humor ...
...
"X-Men: Days of Future Past blows a breath of fresh air through the musty Marvel universe, which increasingly is all about pandering to hard-core fans rather than trying to make good movies for everybody.
...
It all trots along at a brisk pace with genuinely impressive special effects and decent gags. Bryan Singer really cares about his mutant outcasts, weaving just enough drama into the superhero shenanigans.
...