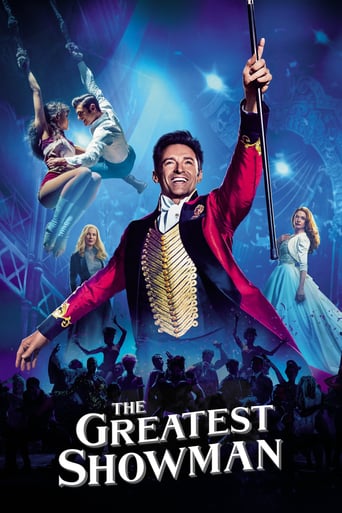 The Greatest Showman (2017)
The story of American showman P.T. Barnum, founder of the circus that became the famous traveling Ringling Bros. and Barnum & Bailey Circus.
...
Cast
Similar titles
Based On A True Story Movies
Biography Movies
Reviews
This is a movie worth seeing. It will make you feel happy and warm. All the dancing was in one breath, a top Hollywood song and dance show. To step on the stage and be yourself, and to fulfill your life dream.
...
Very enjoy, as a series of songs and dances, the plot can also be seen quite a bit more than expected. Bars of the two best, trapeze love duet very moving, but I the deepest impression was the circus member that anger will go the museum, was exciting, such as les miserables "hear the people sing" parts of speech. Jackman's charm is beyond comparison.
...
It is not easy to inject joy into the lives of others. Comedy to clap, musical harder to shoot, just a few degrees to tears, for the people who once walked out of fear of blame, finally found the work that you love and the meaning of life, there is a common guardian's house. Never live for others. You don't need everyone to love you.
...
The critics have been really harsh on this movie. While not a great movie, it's still good enough to be enjoyed by kids during the holiday season. There are fun musical numbers and Hugh Jackman excels in his role as Barnum. It's not meant to be a realistic biopic. It's an enjoyable musical fantasy.
...
One of the best movies I have seen---What an incredible movie. It isn't often I go rewatch a movie at the cinema but I did with The Greatest Showman. Best musical I have seen. The acting is brilliant, the storyline is fantastic & the music is utterly superb. Feel like I could rewatch it 20 more times & not get bored. Hugh Jackman is at his very best as are Zac Efron & Zendaya. True masterpiece. Must see!
...