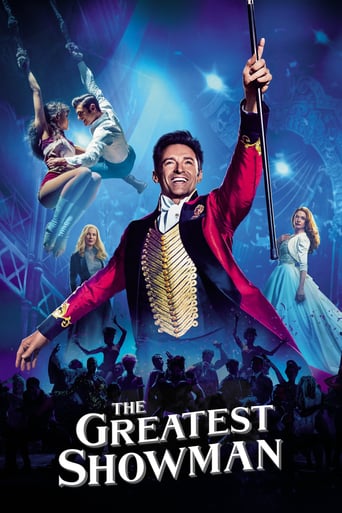 The Greatest Showman (2017)
The story of American showman P.T. Barnum, founder of the circus that became the famous traveling Ringling Bros. and Barnum & Bailey Circus.
...
Cast
Similar titles
Musical Movies
Biography Movies
Reviews
terrible... so disappointed.
More
Tells a fascinating and unsettling true story, and does so well, without pretending to have all the answers.
More
The best films of this genre always show a path and provide a takeaway for being a better person.
More
A terrific literary drama and character piece that shows how the process of creating art can be seen differently by those doing it and those looking at it from the outside.
More
Critics always be there, just enjoy it the movie and have the best time of your life. I love it and I will watch it again and again.
More
Fantastic musical, amazing score and Hugh jackman at his best, a must see
More
Nice feel good movie. Ignore the critics. Predictable story, but that's not at all boring.
More
I'm going to make this review short and sweet. The actors here did their best to tell the story and sing the story of PT Barnum. My problem with this production is they used music from our time now (the style) for times that were happening in the late 1800's and early 1900's. Why not use period music? Totally didn't get that. Even when Jenny Lind sang... she was supposed to sing opera music...she sang a pop flavored ditty. The music did not work...at all. Acting was good and above par...but whoever figured music styles from now would fit into a story back then...
More