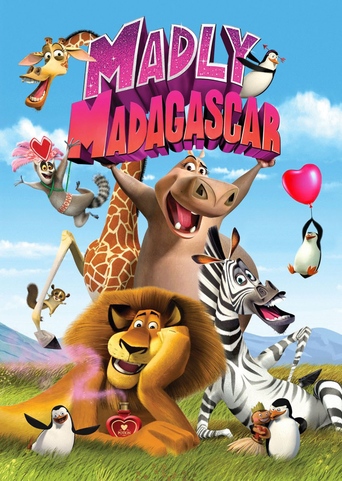 Madly Madagascar (2013)
Your favorite Madagascar pals are back in an all-new adventure! Alex's favorite holiday, Valentine's Day, brings hilarious surprises and excitement for the entire gang. Melman plans a big surprise for Gloria, Marty tries to impress a new friend and everyone wants to get their hands on King Julien's love potion. You'll fall in LOVE with Madly Madagascar!
...
Cast
Similar titles
Africa Movies
Lion Movies
Reviews
Very very predictable, including the post credit scene !!!
More
the audience applauded
More
Thanks for the memories!
More
Excellent, Without a doubt!!
More
First of all, let me make clear that I am talking about the 22-minute version here. apparently, there is also a version out there with the same title that is a somewhat extended version and runs for over an hour, probably includes other Madagascar-related short films, but that is not the one I watched here. Writer and director David Soren made this little movie here 2 years ago and if you are into animation, you may also have come across his most famous work so far: "Turbo", which is a 2013 release as well. And he also made "Merry Madagascar" 4 years earlier, so it's really no new territory for him here. Sadly, experience does not pay off in this case. It's nice to see all the voice actors from the movies of the successful franchise on board for a short film too, but this one came short in terms of fun, but also in terms of emotion, which is quite a pity as they really had all the opportunities to make this a truly heartfelt movie. And there are some incongruences in terms of the plot as well. For example, Marty enjoys all the attention and being party king etc. and only one scene later he really seems all sick of it. Not credible. Thumbs down for this short film. If the next full feature will be as weak as this one here, they'd better not make it.
More
I enjoy the Madagascar flicks. Like the Shrek movies, each subsequent installation lacks s little bit more, but you come to expect a certain amount of fun from the series when a new one comes out.Madly Madagascar isn't a movie. It's 4 short stories the first and last of which are the Madagascar gang, the 2nd from Over the Hedge and the 3rd which just seems to be a random animated short with a bird and a businessman (although winds up being the best of all of them).Since the character developments can't go anywhere in 20 minutes per story for the Madagascar group, this flick scores lower than it could have.Worth a watch if you have kids, but if you're checking to see what happens next with any of the characters, don't bother.
More
I love the Madagascar series. The original wasn't excellent, but it was pretty good fun, Escape 2 Africa was an improvement over the first, but Madagascar 3 was even better! So, when I heard that a valentine's day special was made for the franchise, I watched it online and enjoyed it. OK, it's not an excellent special by any means, but it's pretty good.The storyline is predictable, bit it had some sweet romantic moments with the main and minor characters, especially the romance between Gloria & Melman which was really cute. Some of the jokes aren't nearly as funny as the films' humor, but I was given a chuckle here and there. The characters are still likable as they were in the previous films and the voice acting including Ben Stiller, Chris Rock, Sacha Barom Cohen, and others, is solid, but the animation comes across as the best aspect of the entire special.Overall, Madly Madagascar is predictable like I said before, but as a fan of the franchise, I'm recommending this to those who grew up with the original and loved it!
More