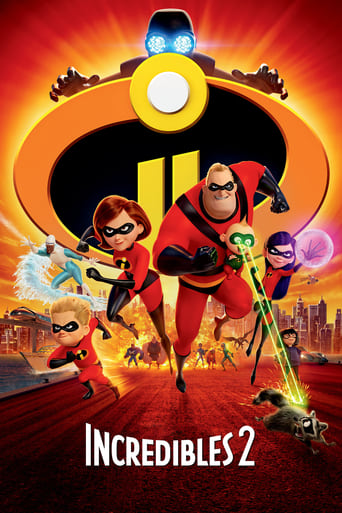 Incredibles 2 (2018)
Elastigirl springs into action to save the day, while Mr. Incredible faces his greatest challenge yet – taking care of the problems of his three children.
...
Cast
Similar titles
Sequel Movies
Family Movies
Reviews
It is a performances centric movie
More
Simple and well acted, it has tension enough to knot the stomach.
More
The movie is wonderful and true, an act of love in all its contradictions and complexity
More
This is a coming of age storyline that you've seen in one form or another for decades. It takes a truly unique voice to make yet another one worth watching.
More
Maybe not quite as good as the original, but still a lot of fun and just as well as they appear to be setting up a franchise (another one). It looks great of course, it's well written, lots of snappy action. The comedy is quite quirky though, aimed as much if not more so at the adults than the kids. Disney are clearly putting their moral stamp on things, equally opportunities, digital dependence, accepting all cultures, but hey that's all very good and it's delivered well. Certainly our kids got the message and were happy to explain it to me as the credits rolled. They also laughed uncontrollably at Jack-Jacks antics, we all did! Not quite Pixar at its very best, but very very close!
More
This is a great return of this fun super hero family. Giddy over the top action with awesome characters and a good story. These low reviews are clearly left by people that are sad and dead inside with no sense of humour or sense of fun.
More
I don't understand all the negative reviews. This movie was funny, incredibly adorable, and just what I wanted. The adult humor was on point, but it was still very child appropriate. My toddler is obsessed with The Incredibles, So it being entertaining for me was a plus.
More
Having enjoyed the increadibles movie 14 years ago, I was pretty entertained by this movie! It was funny, engaging and very positive. Seeing Elastigirl kicking ass as a superhero and the increadible taking care of the kids was refreshing to see. And OMG how adorable was the superhero baby, Jack Jack?!
More